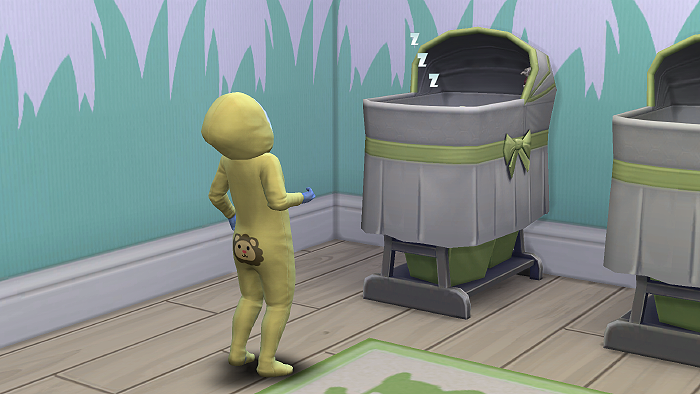 Hello everyone and welcome back to the Hayden Legacy!
When we left off last chapter the second baby of generation six had just been born.
We begin this chapter by seeing Adam, the first born of the generation, "meeting new sibling." He wasn't too happy about meeting his new sibling, but he'll just have to get over it.
Ironically, last chapter Myra had a birthday at the beginning of the chapter, and that's happening again in this chapter. This time, she'll be becoming an Elder.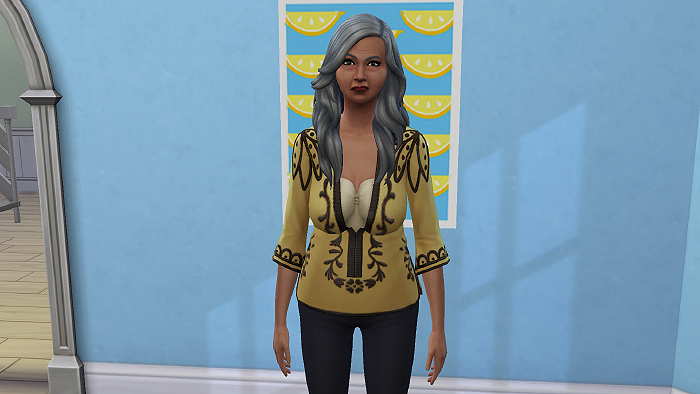 Myra does not look thrilled at the prospect of becoming an elder sim, doe she? But at least she looks great!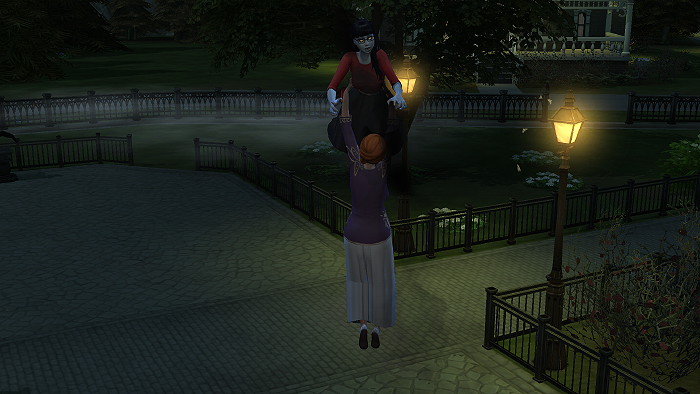 I've been trying to get Rachel's vampire rank higher because she needs to be a Grand Master vampire to unlock the traits she needs for her aspiration.
This evening, she's sparring with fellow vampires to increase her skill.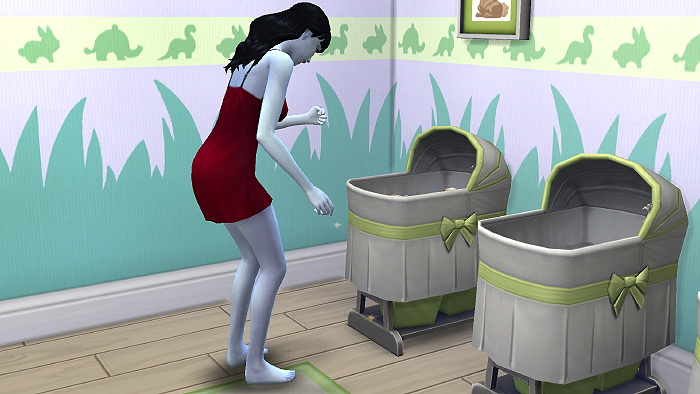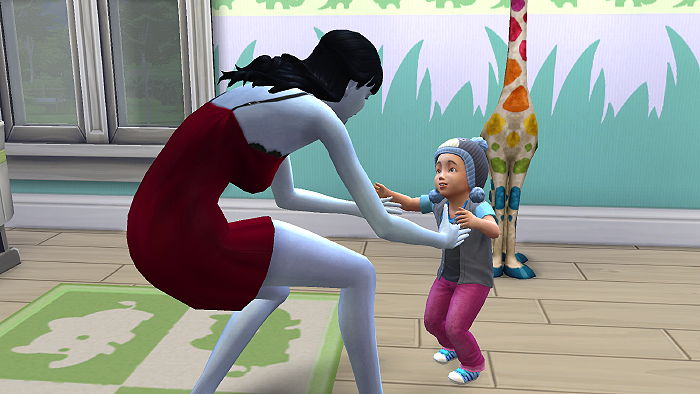 Soon it's little Kory's toddler birthday! They grow up too fast.
He's so adorable, but that outfit is awful! Some of the compilations I see for clothing ensembles are just terrible.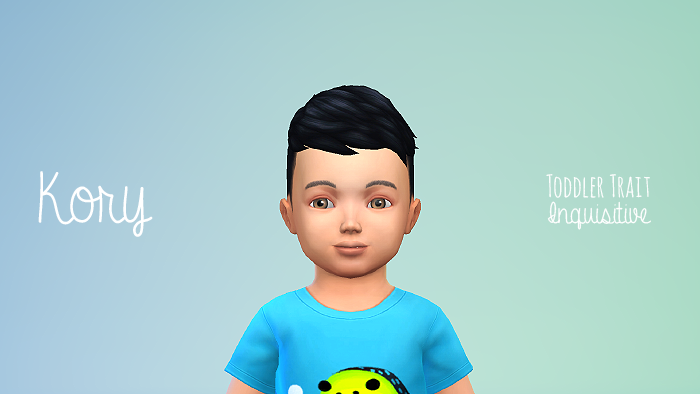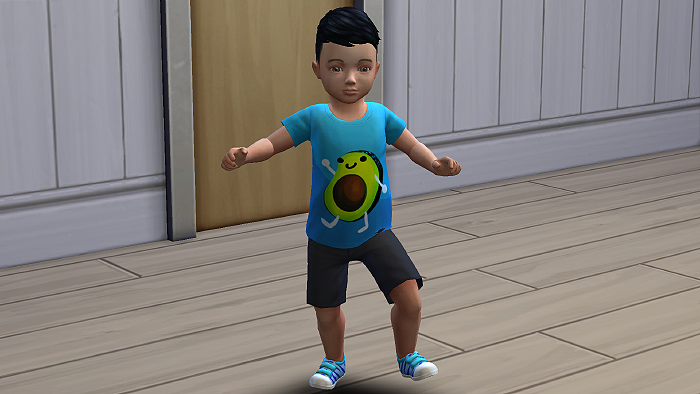 Kory is an inquisitive toddler with an adorable avocado shirt. (I don't like avocados, but I do like this shirt.)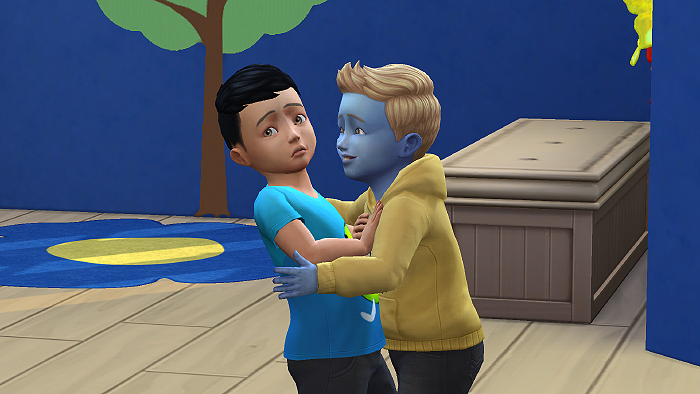 Kory wants nothing to do with the hug that his older brother is trying to give him. He looks so helpless.
Luckily, Aunt Chloe was there to save the day and give Adam some attention.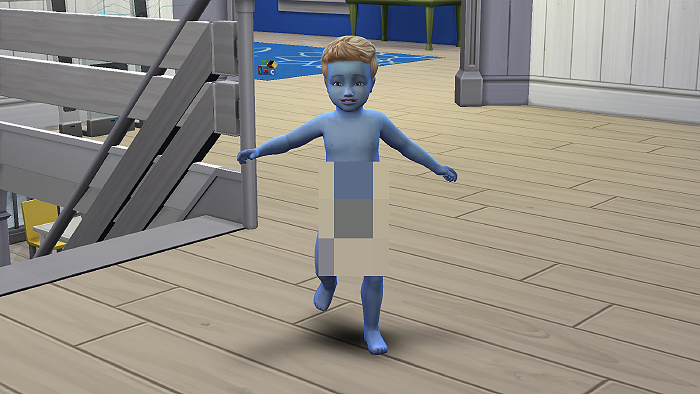 Toddlers have the option to run around without any clothes on and it's so adorable.
As you can see, Kory still doesn't believe in personal space and is sitting in front of the potty with his wabbit tablet while Adam is trying to use the bathroom.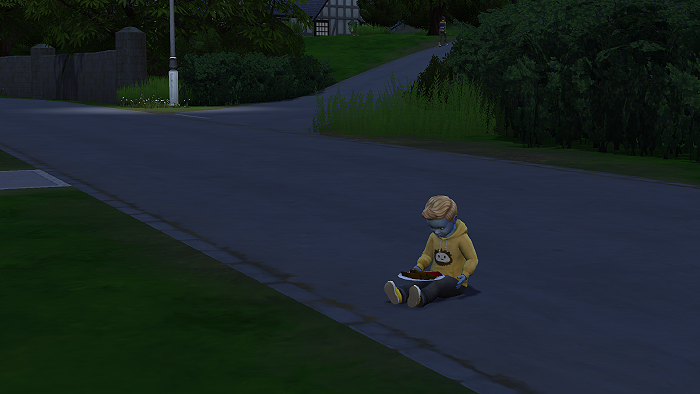 Later that evening, Adam takes his dinner dish into the middle of the road to eat it. Luckily, sims can't die from being hit by a car.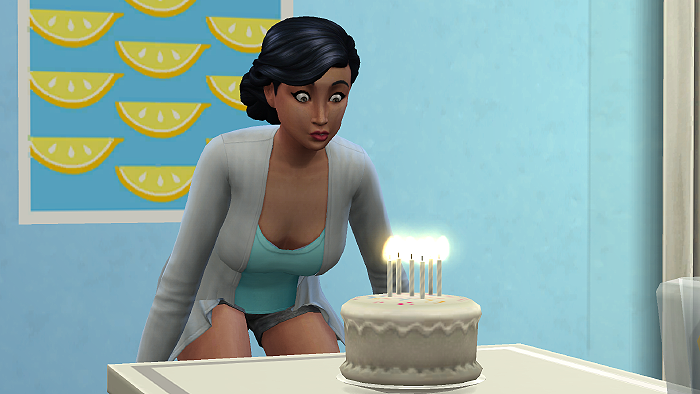 Chloe's young adult birthday has arrived, which means that I will no longer have the extra assistance of another sim helping take care of the toddlers.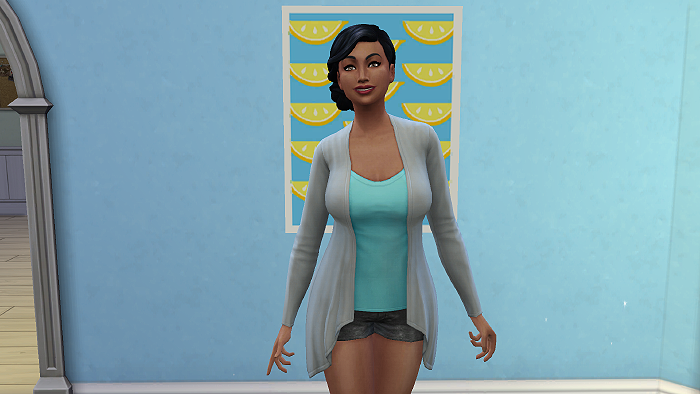 She aged lovely though, and I'm sure she'll have a nice life as a spare.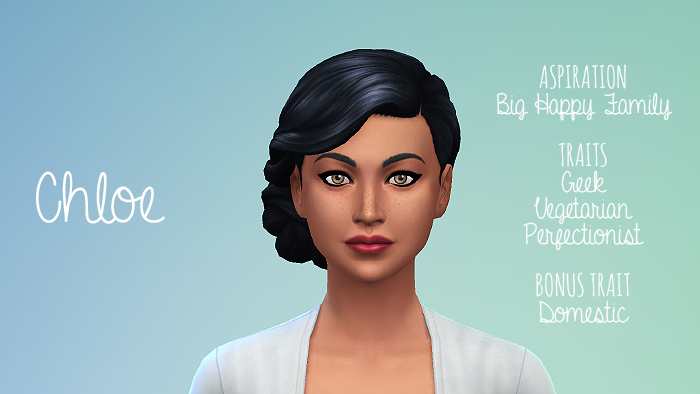 Chloe adds perfectionist to her list of traits as a young adult.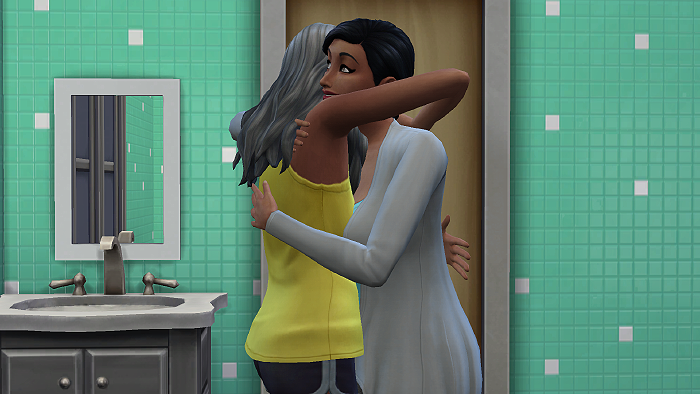 Unlike all of my previous sims, I actually thought to have Chloe say goodbye to her mother before moving out of the house.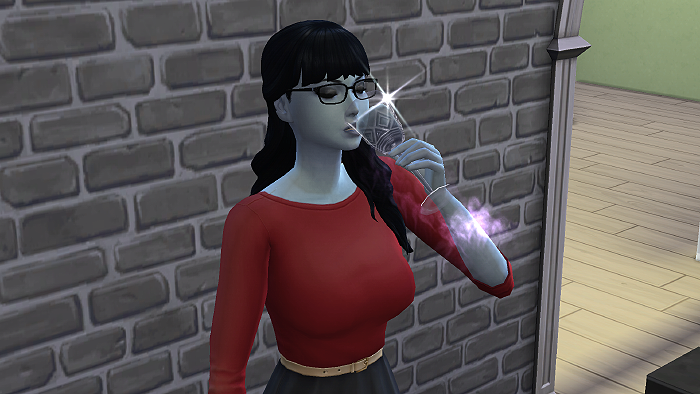 The vampire trait reset drink is slightly bugged, but after googling it I was able to figure out how to make it work – you have to select the drink button to the left.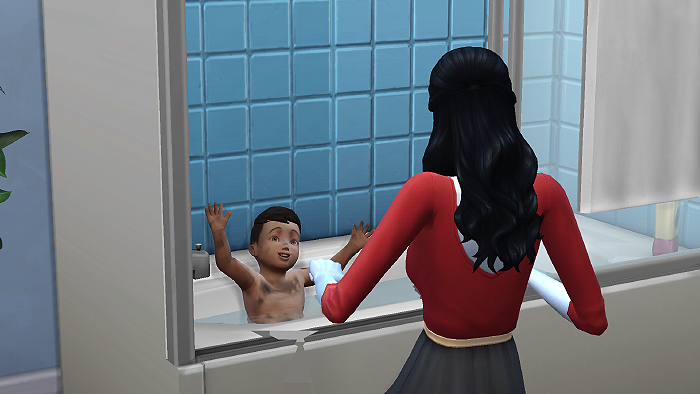 While Rachel is bathing him, Kory starts splashing around. It's so adorable though, how can you be mad at him?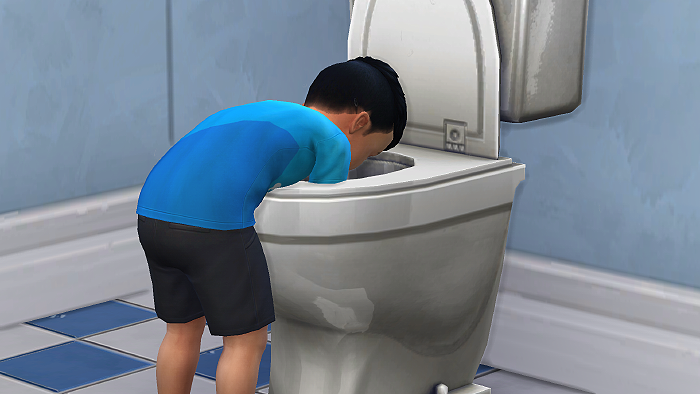 But then, as if to test me, immediately after his bath, Kory goes and splashes around in the toilet.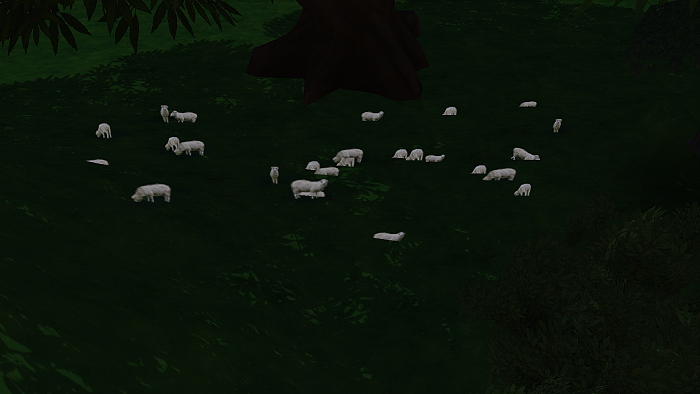 I know it's really hard to tell what this is, but when I was exploring the neighboring lots while still loaded into the Hayden's, I came across a field of sheep! Aren't they cute?
Rachel is now pregnant for the final time this generation! I'm hoping that they're spaced out enough that I won't have too many toddlers all at once.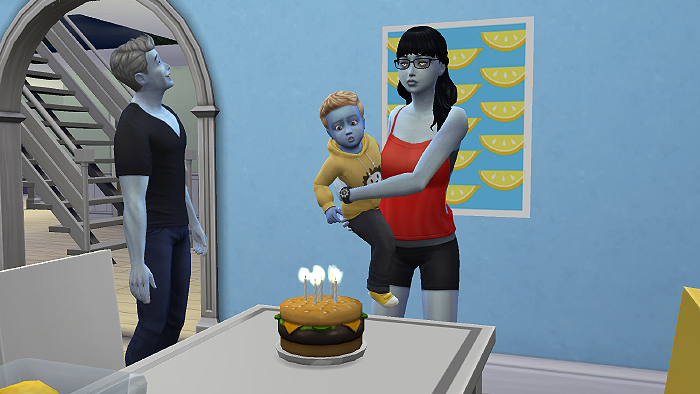 Hey Aaron? I'm not sure what you're looking at, but your daughter and grandson aren't on the ceiling.
Despite Aaron's strange staring, it's time for Adam to grow up!
Adam aged into a very adorable little boy, I have to admit.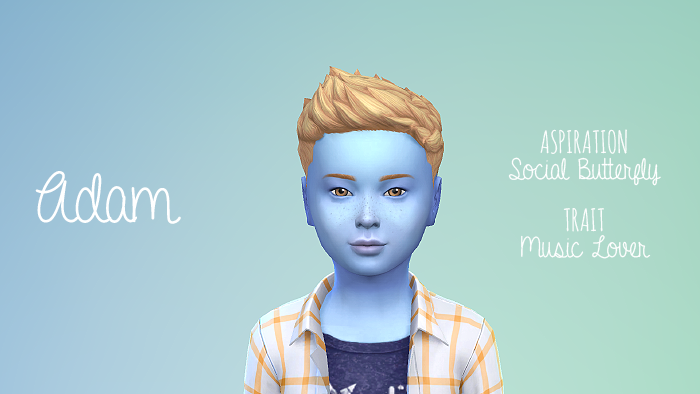 Post-makeover he's even cute, though he has an absolutely awful aspiration.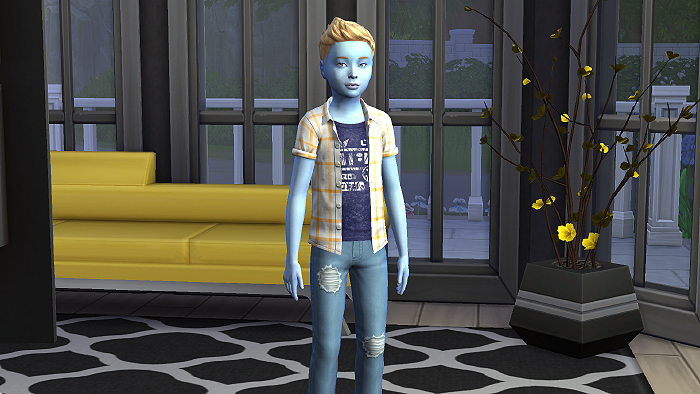 I really like this outfit on him, and I'll admit I've gotten lazy a little lately and have used styled looks on my sims.
I decided to try out the butler for a bit and see if that would help with having toddlers in the house. But, the first thing she did was go play on the game system.
After taking a long nap, it's time for Rachel to go into labor!
I actually made her sleep a little longer, but soon she was truly in labor and ready to have her last baby!
Meet baby boy Caleb Hayden!
AND baby girl Chelsea Hayden!
After rolling for heir/ess, Chelsea is our winner!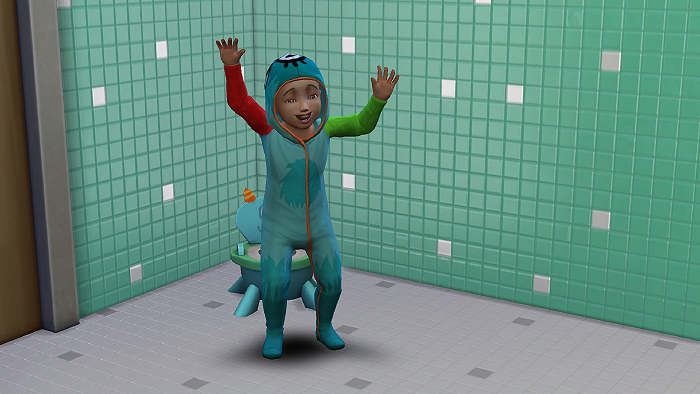 You'd think Kory was just excited for his little sister, but actually he's just happy that he used the potty.
But then, he wasn't so happy when Rachel tried teaching him to talk.
Luckily, Kory is going to become a child before the twins become toddlers.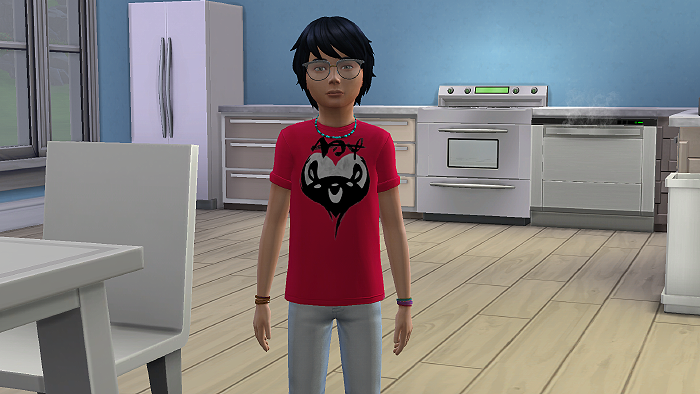 He's definitely adorable, but that outfit….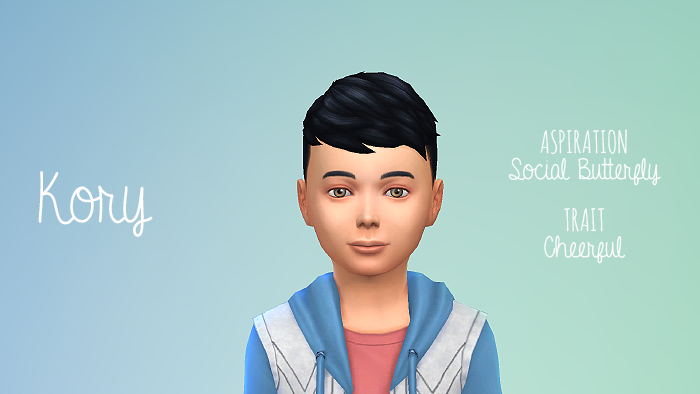 Much better! Unfortunately, he also got social butterfly as his aspiration. I really hope they make some new kid aspirations soon.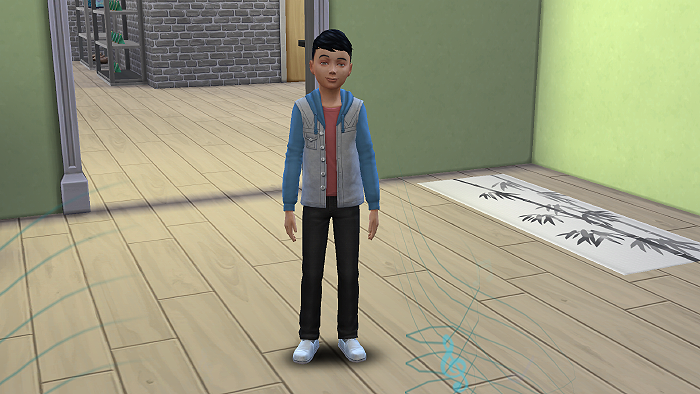 Another lazy outfit, but still it looks really cute.
Rodrigo has finally reached the split in the entertainment career and is able to go for the comedian path that he needs for his aspiration.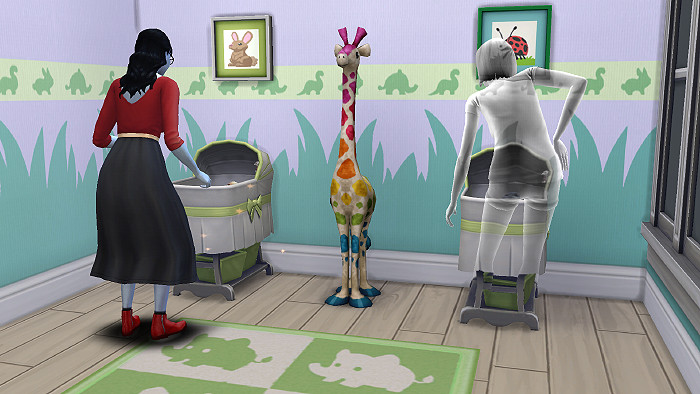 It's time for the twins to become toddlers!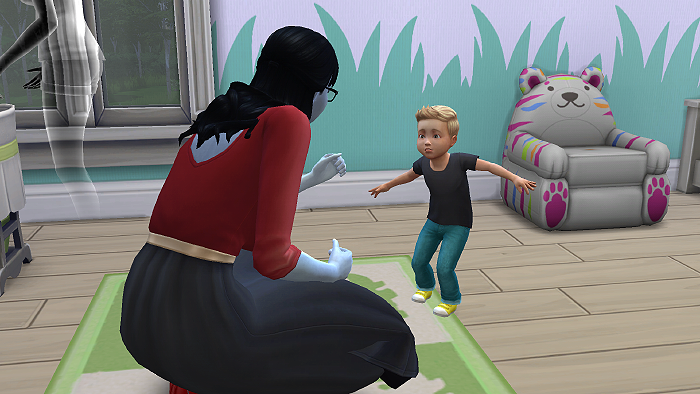 Awww, look how cute they are!
Caleb's needs icon has the little vampire picture on it, so I'm guessing little Caleb is a vampire!
In the mirror/CAS, Caleb has the vampire icon near his traits, so it's confirmed that Caleb will be a vampire! He's also a fussy baby. But, then again, I would be too if I was being fed human food and I was a vampire.
I feel like vampire babies should be fed plasma instead of milk, etc.
Chelsea is absolutely adorable and has the independent trait, so she should be a fairly easy toddler to deal with!
Cute
and mandatory
toddler hug!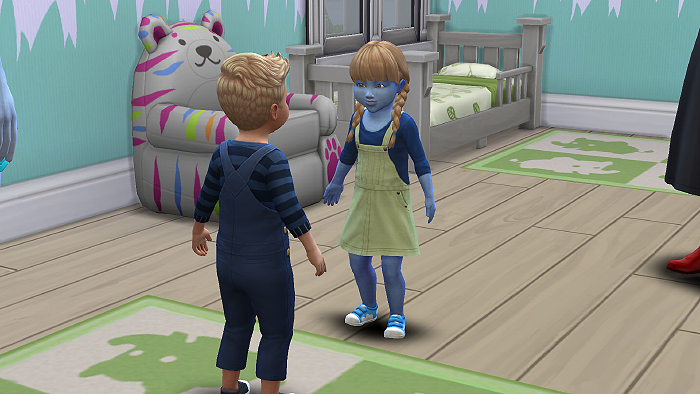 I like that their outfits sort of match too, it's cute since they're twins.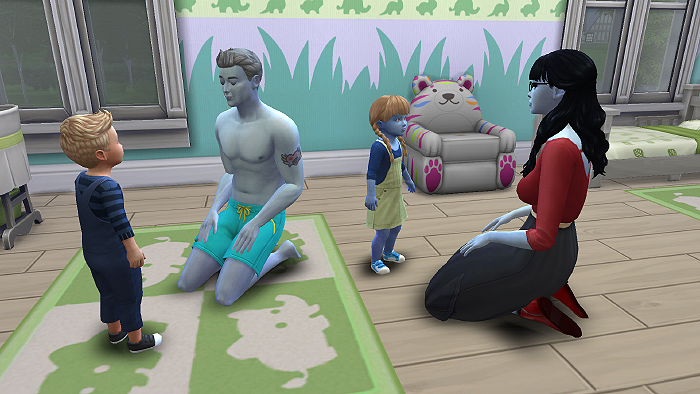 And then the toddler training begins – first up learning to walk (I think.)
- - - - - - - - - - - - - - - - - - - - - - - - - - - - - - - - - - - - - - - - - - - - - - - - - -
That's where I'm going to leave this chapter. I hope you enjoyed it, and I hope to have another chapter out very soon!
In the meantime, check in with me over at
SiMania
or
BoolProp
!