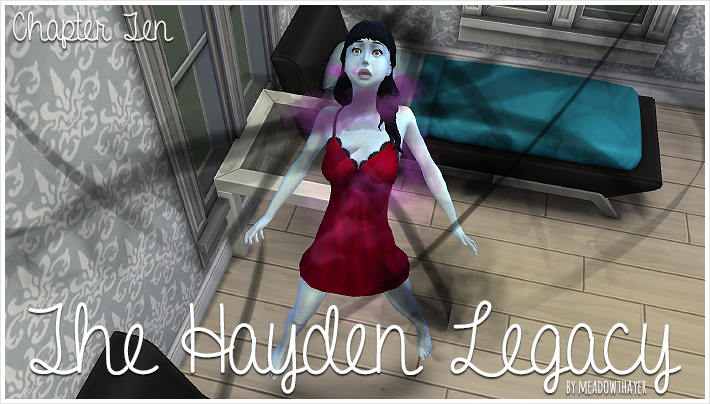 Hello everyone and welcome back to the Hayden Legacy!
When we left off last chapter, the oldest of generation five had just become a young adult and moved out.
We'll be beginning our chapter with another birthday in the Hayden household! It's time for Myra to become an adult! I forgot how young she actually was.
She looks lovely as ever.
I'm actually really happy with her as a spouse for a legacy heir because she produced some gorgeous children with a decent amount of variety.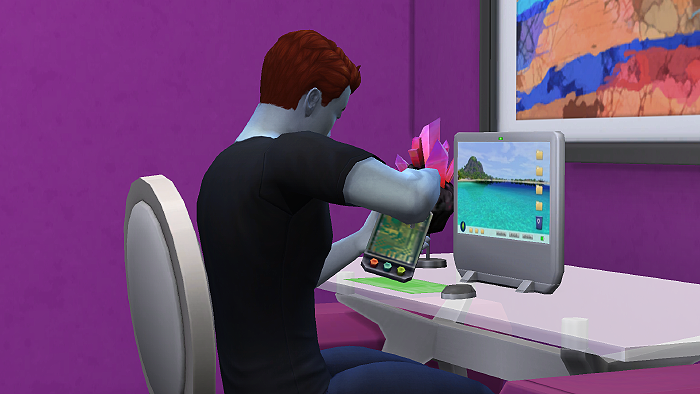 Aaron has completed his nerd brain aspiration, and up next I decided to give him computer whiz because he had almost completed the things he needed for this aspiration so it would be an easy next aspiration.
Rachel is pretty far along in her vampire conversion – she's at the point where she has no appetite, or rather, that no human food will satisfy her hunger, but she still keeps trying to eat cake and other things, which is amusing because it doesn't do anything for her.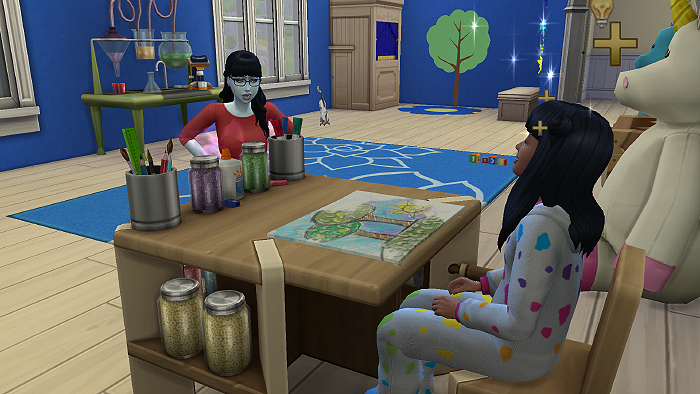 While trying to hang out with her little sister, Rachel begins experience similar stomach pains similar to those she had when she first began the process of becoming a vampire.
Chloe has completed the Artistic Prodigy aspiration, up next is Whiz Kid.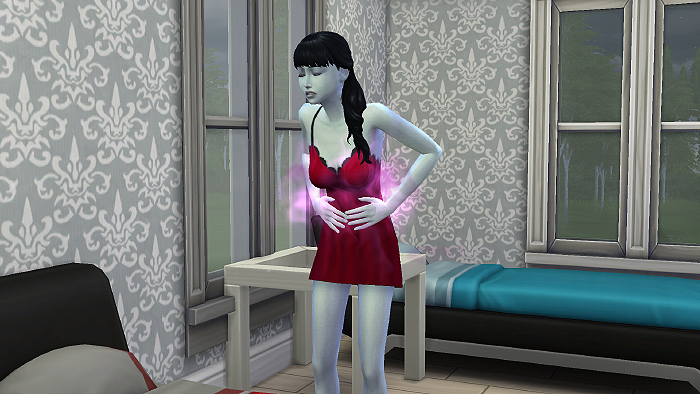 Later that evening, Rachel was awoken by worse stomach pains.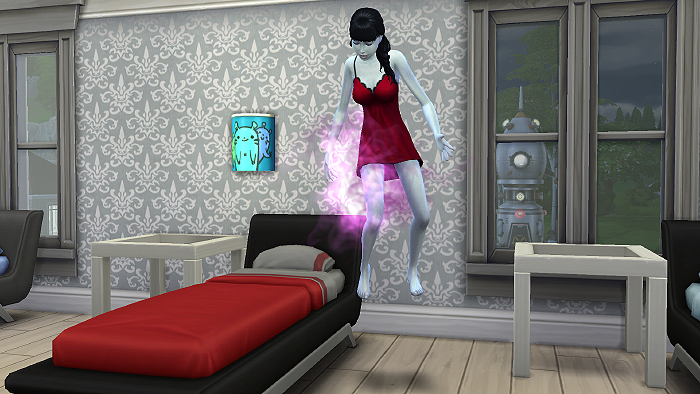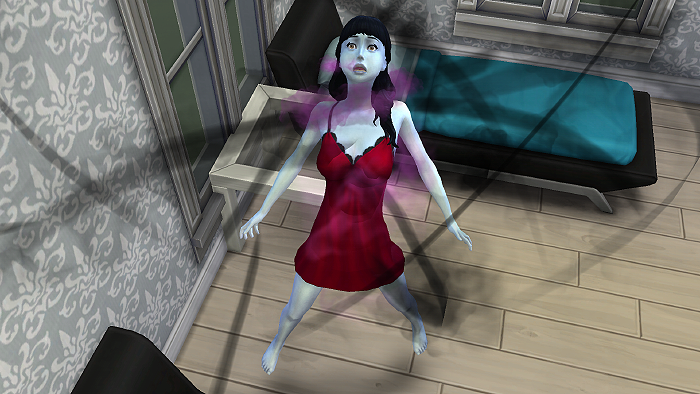 She then began levitating and was surrounded in a purple aura with some black smoke spiraling around her.
And just like that, she turned into a vampire
with a very ugly dark form.
After sending her to the mirror to change her dark form, Rachel looks much better!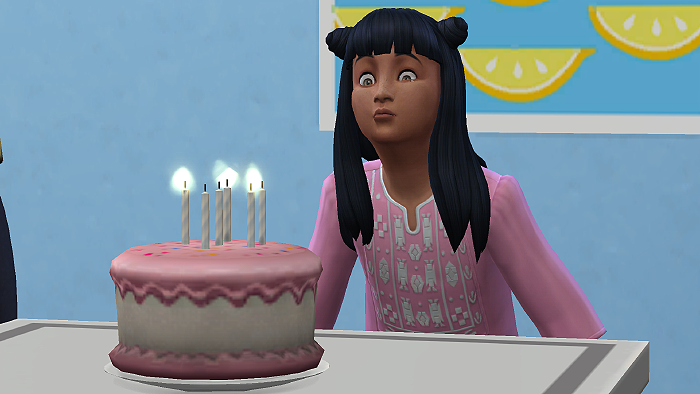 It's time for little Chloe to become a teenager!
Even though she wasn't born much later than her siblings, because she was the only toddler, it has made her a lot younger than she would've been otherwise.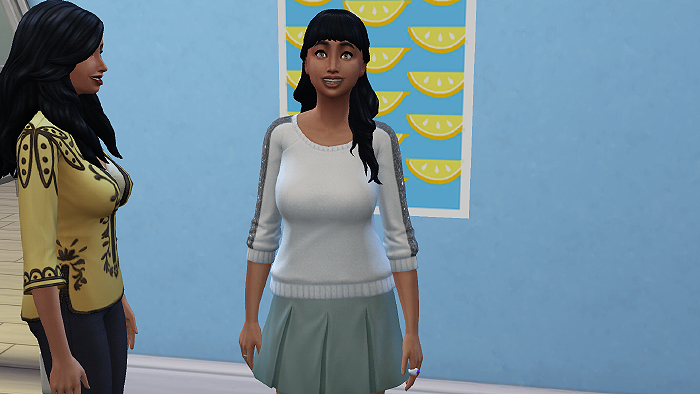 She grows up into her older sister's hair, which shows me how much she really does look like a non-alien Rachel.
Post make-over, Chloe looks much better. I'm really pleased with how this generation turned out. There's a lot of genetic diversity, but they're still all gorgeous.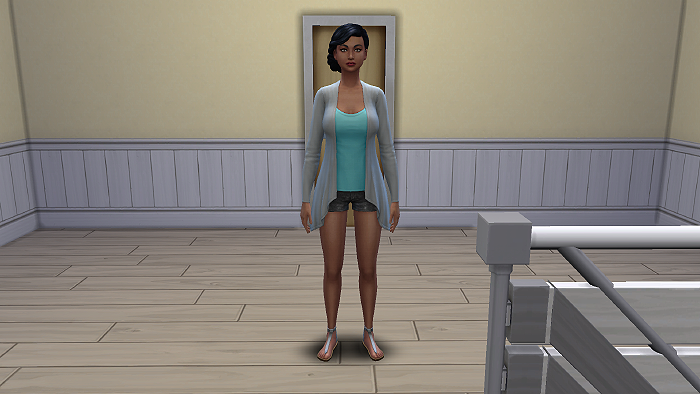 I thought this hair with this outfit was fitting for someone who wants to have a big happy family, after all kids like to pull your hair.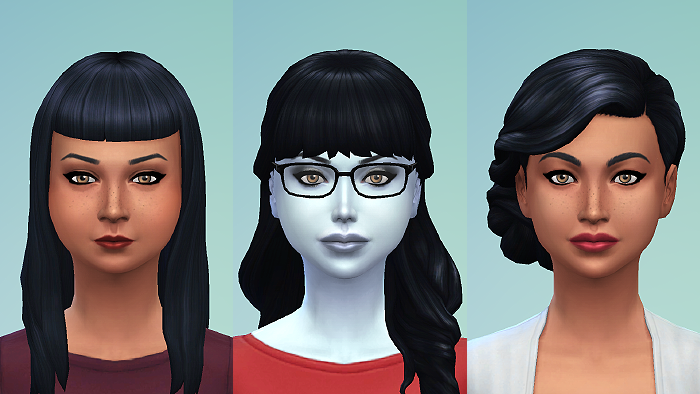 Here's our side-by-side comparison of our three ladies from generation five.
Unlike her big sister, Rachel is much smarter about the time of day which she sits on the edge of the pool as a vampire.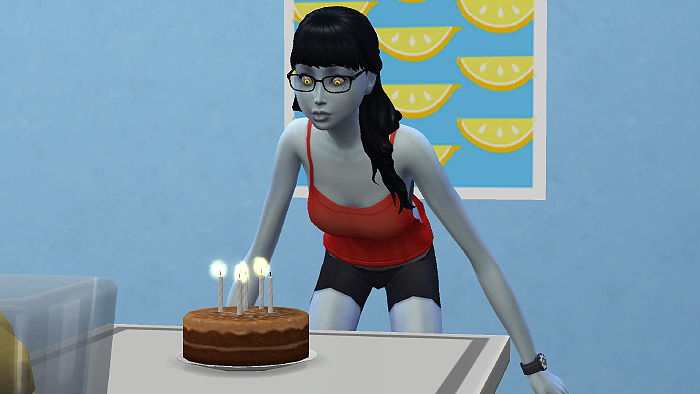 It's time for Rachel to become a young adult!
Also, if you notice, I changed her eyes in her dark form since the picture because I didn't think the ones she had were vampire-y enough.
And all of the ugly features of her dark form came back….
There we go, that's much better!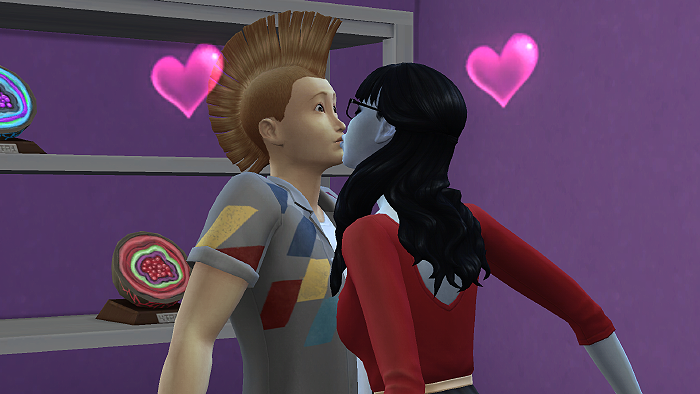 Everyone meet Rodrigo Sakamoto! He is Rachel's new boyfriend! Isn't he cute?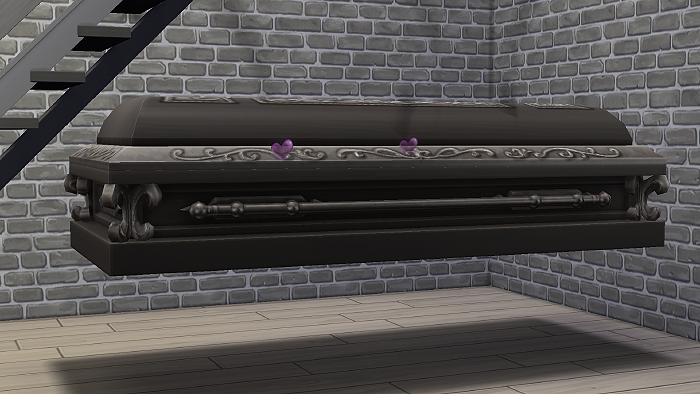 Rachel clearly thinks so since shortly after their first kiss they were found woohooing in Rachel's coffin.
After the woohoo, Rachel asked Rodrigo to move in and he happily accepted.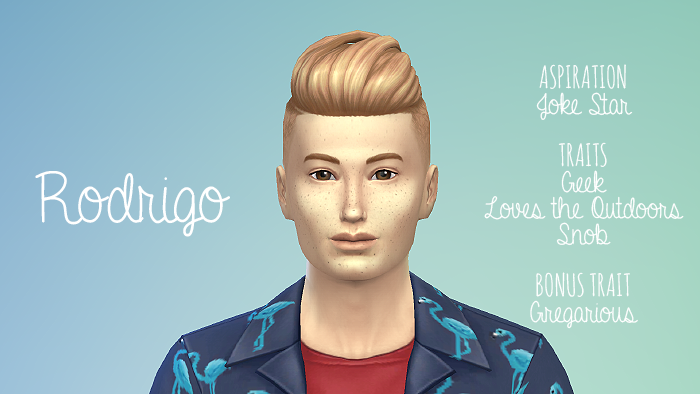 Rodrigo looks very nice after a make-over, and I'm really excited to see what their children look like.
This picture sums up their relationship well, lol.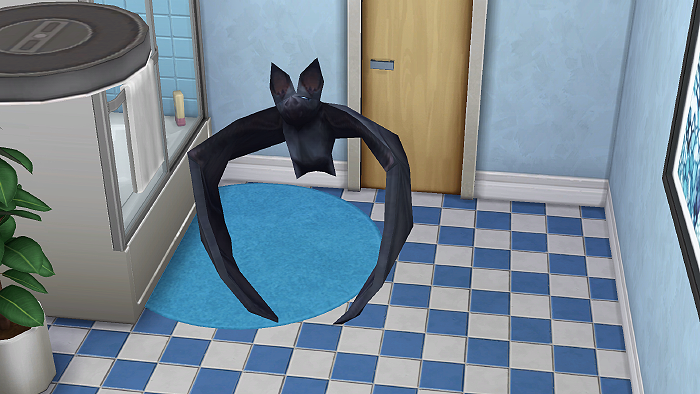 I was finally able to get a picture of Rachel as a bat! No reason for it, I was just excited to finally do it.
Speaking of, I really love vampires because having the "always move as bat" option really makes them get from point A to point B so much faster.
That evening, Rachel tried to propose to Rodrigo, but sadly, he said no.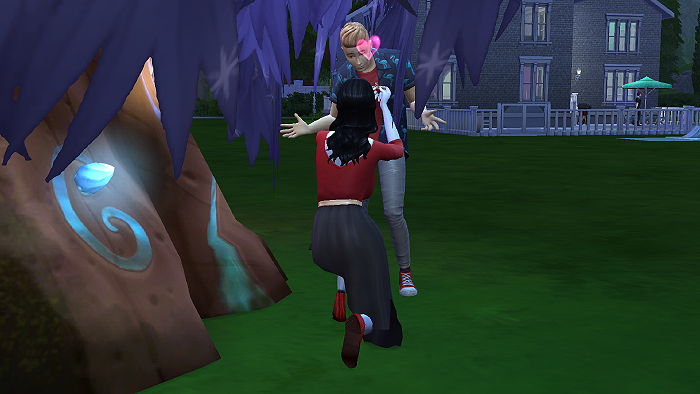 However, after a few hours of romance and deep conversation, Rachel tried again and this time Rodrigo said yes!
Then as the sun was coming up on a new day, they said their vows to begin a new life.
Normally, this would be really romantic if it weren't for the fact that Rachel is a vampire and those orange flecks are not confetti or glitter, but Rachel's skin sizzling.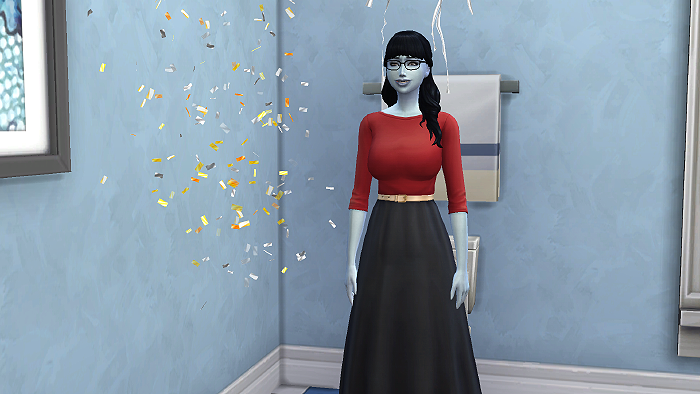 Rachel is officially pregnant with generation six!
Rodrigo doesn't seem as excited as me and Rachel are however.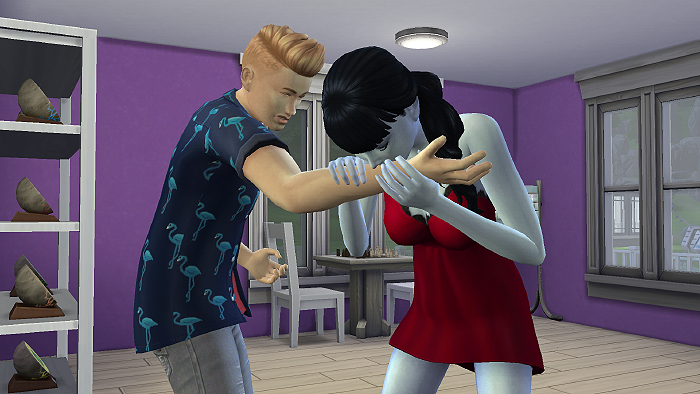 Luckily, Rodrigo is a very supportive husband and whenever Rachel needs to feed, he gives her permission to drink from him.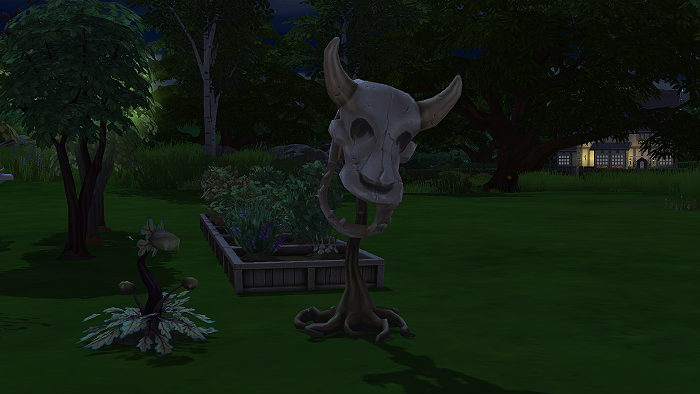 Nobody had been eaten by the cow plant in a while, and so it unfortunately died. How sad.
After harvesting some of the plants from her garden, Myra has completed the curator aspiration and will be working on fabulously wealthy next. Simply because I'm lazy.
I can't believe it's already time for Aaron to become an elder! It seems like just yesterday that Olivia gave birth to him!
Aaron makes a handsome elder, not that I had any doubts, he's always been handsome.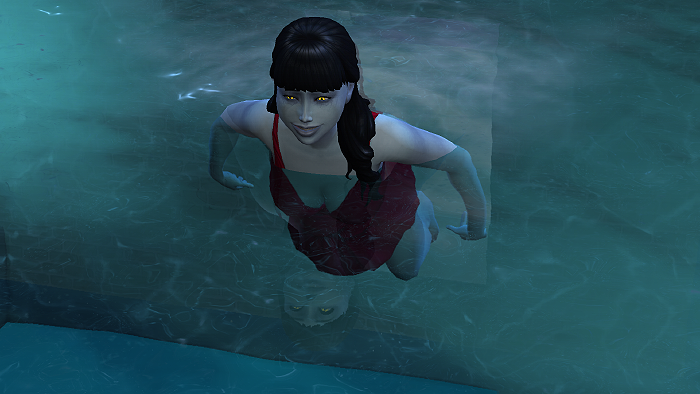 Rachel likes to go for nightly swims, since that's the only time of day that she can safely swim without dying.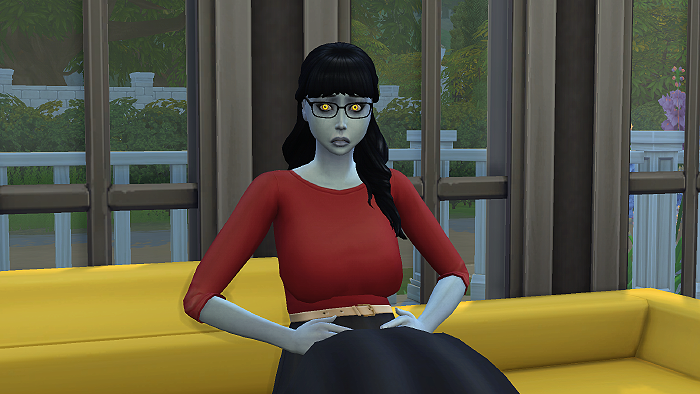 "HALEIGH! I THINK I'M BECOMING A VAMPIRE AGAIN!"
Rachel, you're already a vampire. You can't turn into a vampire again unless you're cured first.
"Then what is this pain? It feels very similar!"
You're probably just in labor.
With that, Rachel headed upstairs to the nursery to deliver the first baby of generation six.
It's a boy! Meet baby boy Adam who has the alien skin tone, though somehow, it's a shade darker than his mother's.
As you know, I'm naming sims in this legacy after whatever name comes to mind when they're born. Well, Adam came to mind because I had taken my car in for an oil change at PepBoy's and they told me my front two tires were in terrible condition (they rated as a 3 and they need to be a 10.) So, I asked for the cheapest tires they have because my Mom was going to pay for them for me since I can't even pay my regular bills right now. ANYWAY, they were sold out of those so the guy I was talking to, Adam, gave me a free upgrade to the next best tires! Then, later when I came back because something felt off about them, Adam had them do a free alignment for me! So, needless to say, I felt Adam deserved to have a sim named after him.
Somehow, I forgot that toddlers were a thing, and had Rachel get pregnant right away. This could be a potential disaster.
For once, I think I'm on the same page as the father of the baby.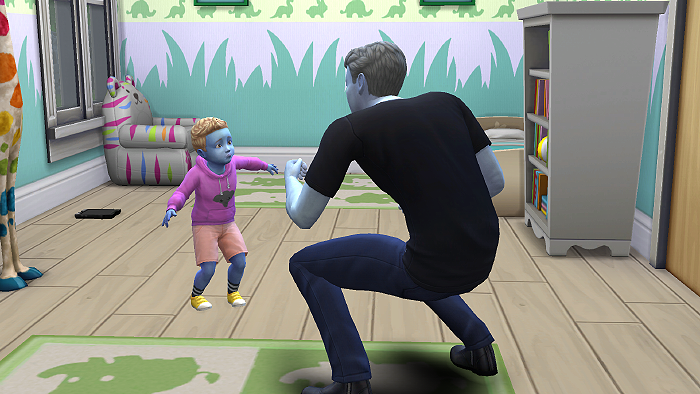 Adam's birthday arrived, and soon he became a toddler. Aaron autonomously decided he'd use this time to teach Adam how to walk.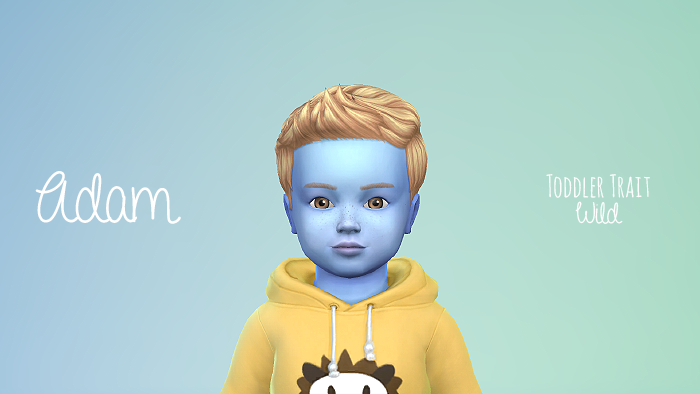 After Aaron finished with Adam, I had him give him a makeover. He looks much better now, and he's super adorable! Though, that toddler trait might give me some trouble.
I love this lion hoodie, but I really need to get some more clothes for these guys. I hope the next stuff pack or game pack has things in it for toddlers.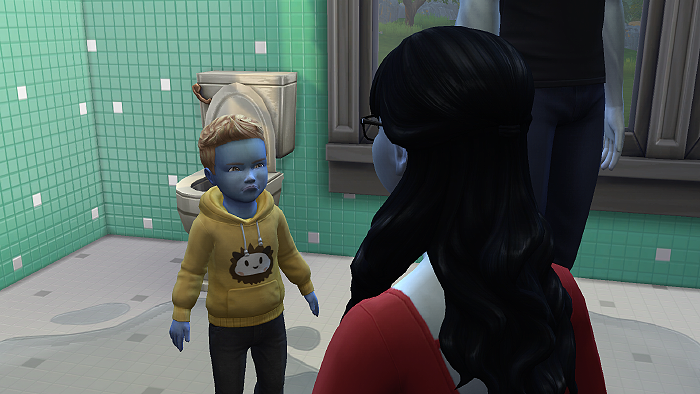 Oh boy. So it begins.
You wouldn't be able to tell from his face, but Aaron has completed the computer whiz aspiration. I decided to give him fabulously wealthy, like his wife, because I've got to focus on toddlers right now.
Ugh! Adam is starving, and he keeps throwing his food off of his high chair. It's driving me (and Rachel) crazy!
Then when Rachel gave him a ham sandwich, he just keeps playing with it! Uggggh!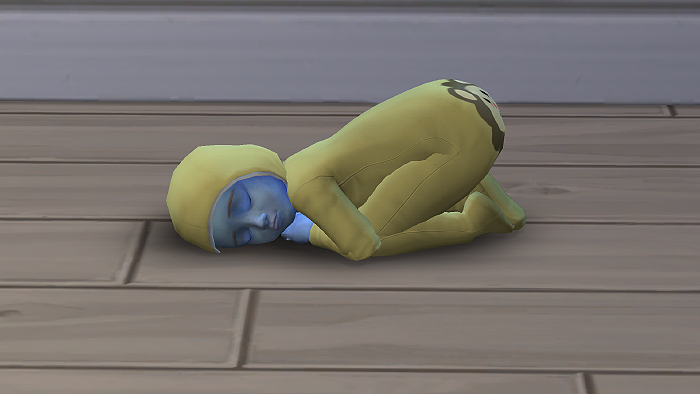 Then, I finally get him to eat more, and put to bed, and he gets up from bed, comes into the hallway and then passes out on the floor.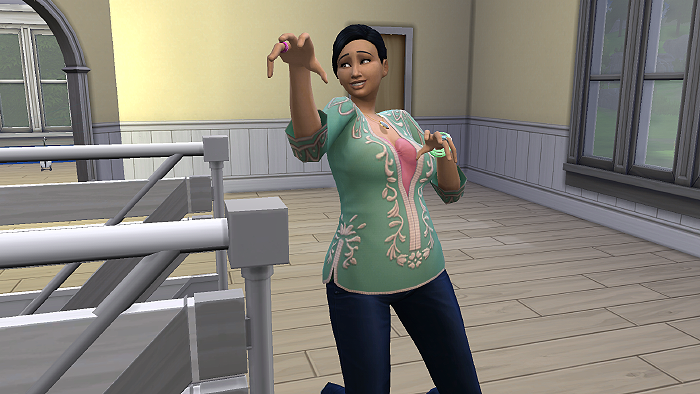 After finally getting Adam back to sleep, one of the nearby vampire breaks into our house and walks upstairs like this.
She the mesmerizes Myra and immediately after drinks deeply from her before leaving the house.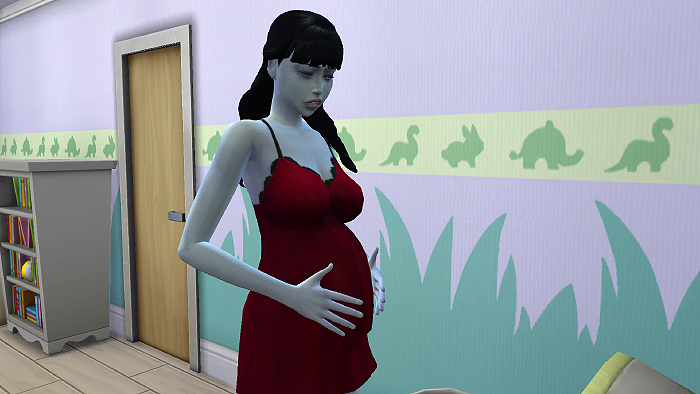 This must have been semi-stressful for Rachel, because shortly after she was going into labor!
It's another boy! Meet baby boy Kory!
Kory is named after my Teaching Science professor I had this semester because he was by far one of the best teachers I've ever had.
Because he's wild, Adam starts wandering around outside and kept walking to the edges of the property trying to run away! Rachel and Rodrigo definitely have their hands full with this one.
- - - - - - - - - - - - - - - - - - - - - - - - - - - - - - - - - - - - - - - - - - - - - - - - - -
That's where I'm going to leave this chapter. I hope you enjoyed it, and I hope to have another chapter out very soon!
In the meantime, check in with me over at
SiMania
or
BoolProp
!