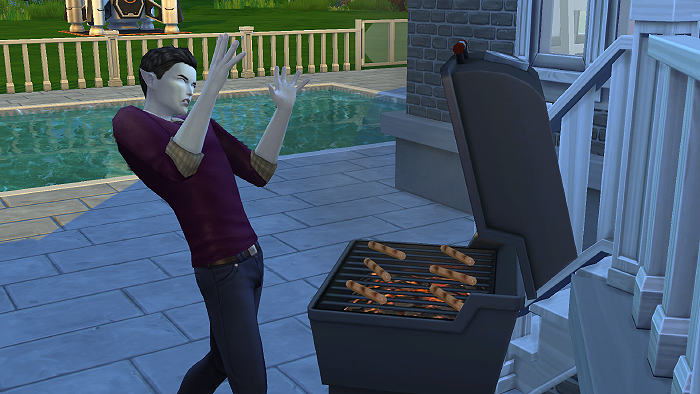 Hello everyone and welcome back to the Hayden Legacy!
When we left off last chapter, our generation three heiress had just gotten married and found out she was pregnant with the first child of generation four.
We resume with Abraham telling himself a story while he cooks some hotdogs. Just another day in the life of an insane sim.
Olivia is going into labor with generation four! Are you guys excited? Because I am! Though, Olivia doesn't seem to be too excited.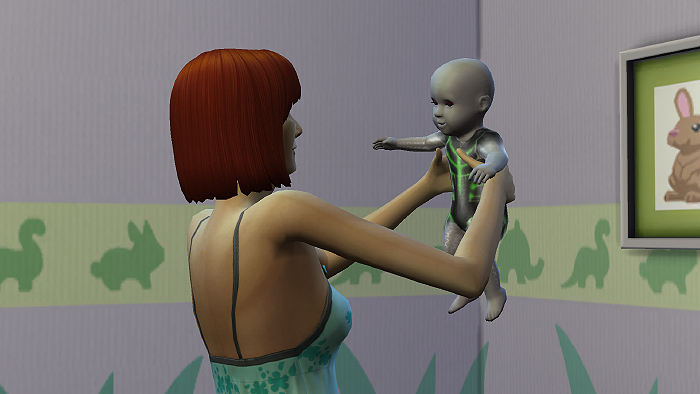 It's a girl! Meet baby girl Sienna Hayden! She looks exactly like her Dad so far.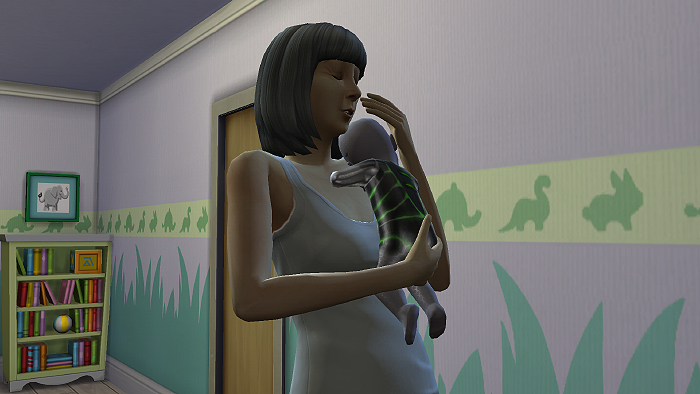 Even Rylee is pleased with her new grandbaby.
After collecting some plants from the garden, Abraham has completed his Curator aspiration. Since I had already given him a job in the critic field which works on writing, I decided to give him Best Selling Author as his next aspiration.
Note: I picked critic because he's a snob so I thought that trait fit lol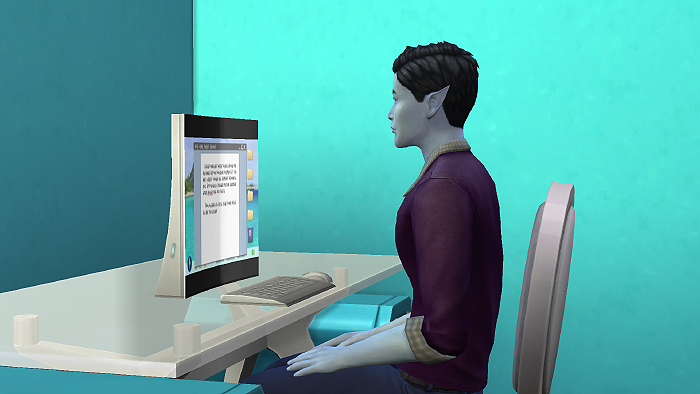 Now he spends most of his time working on books in the basement.
Our sweet Sienna has become a child Today! It looks like she got her Mom's red hair!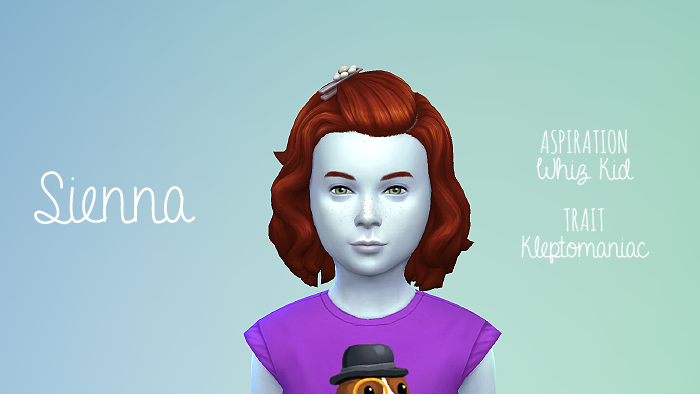 She's a great looking child. I definitely love her.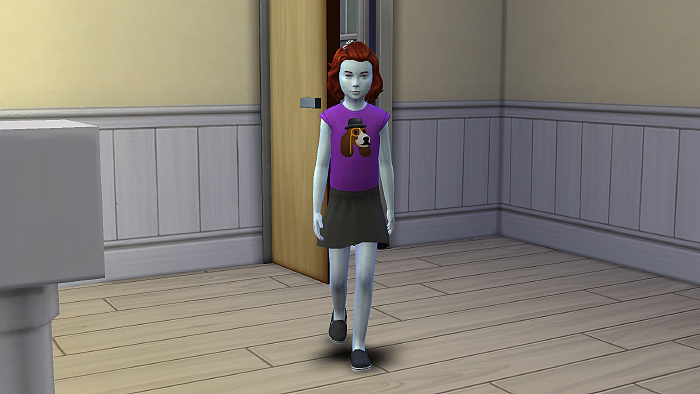 I also really like this shirt for some reason.
So, Abraham has a snooty walk, and while he was walking I caught his daughter making this face at him. It's hard to see unfortunately, but Rylee was also making a face which you can see below.
She does not look amused by her husband, does she?
Thanks to the mood boost in the focus room, Rylee was able to play the three games of chess that Sienna needed for her aspiration. She still got the angry moodlet from being around her, but luckily the focused moodlet overpowered it.
Sienna is moving through Whiz Kid quite efficiently, and now all she needs is an A at school.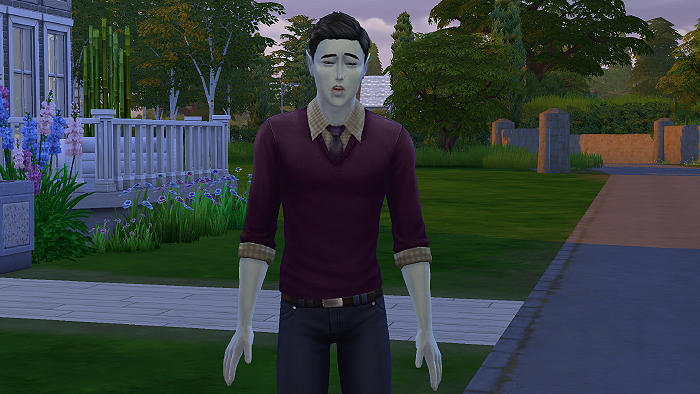 I don't know why my sims never look happy about promotions in this family. He was sad from his insane trait, and I don't think he even got the happy moodlet for his promotion.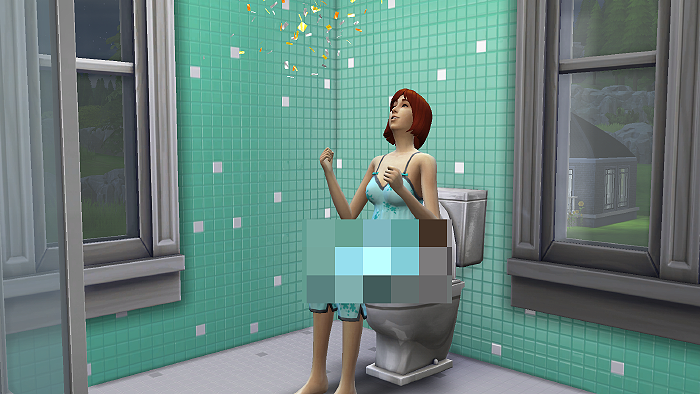 To cheer him up a little, I had him and Olivia woohoo – and now the next baby is officially on the way!
Of course, as is typical with sims in this game, Abraham is less than thrilled about the news of Olivia's pregnancy.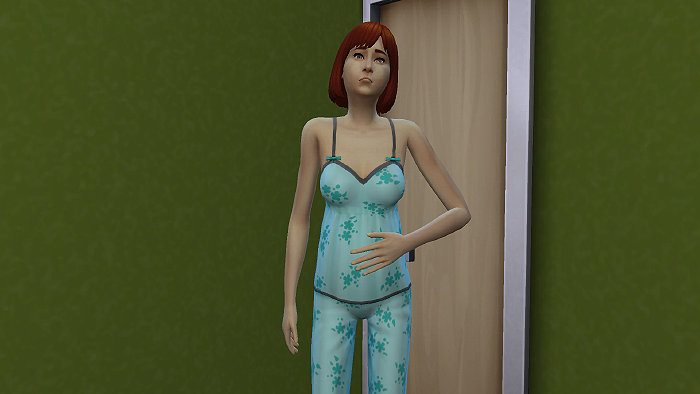 Almost immediately after telling him, Olivia gets morning sickness – something she didn't have with her previous pregnancy.
"Goodbye world!"
Rylee, you're just going to space, you'll be back.
Wait, you're not in your spacesuit anymore.
NO, YOU CAN'T DIE YET, IT'S TOO SOON.
Seriously, I completed several aspirations for her so I don't know why she's dying so quickly.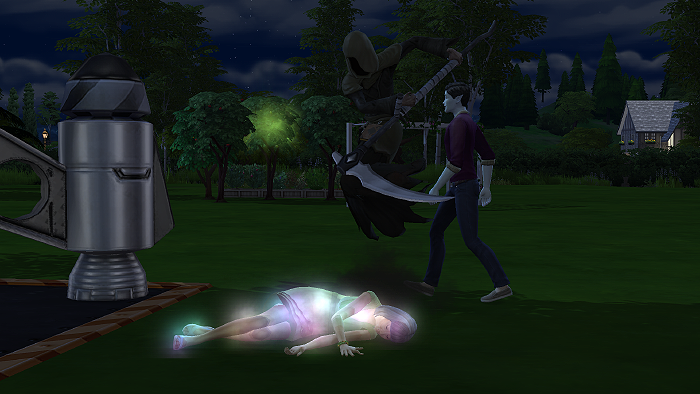 Only Abraham arrived outside in time to see Rylee's passing.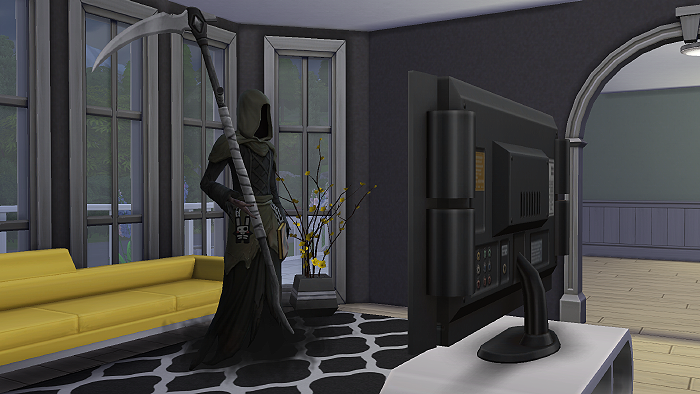 It seems to be tradition for the Grim Reaper to go watch some television after claiming one of my sims. He's done it for all four deaths so far.
Look at that pitiful face. She looks so upset about the monster under her bed.
Olivia was too exhausted from the pregnancy to spray for the monster and Abraham was too sad from Rylee's death. So, she had to just stay awake. Poor girl.
Olivia has had a really rough pregnancy and has been throwing up frequently.
While Abraham may not be happy about baby number two, it looks like little Sienna is excited to have a baby brother or sister.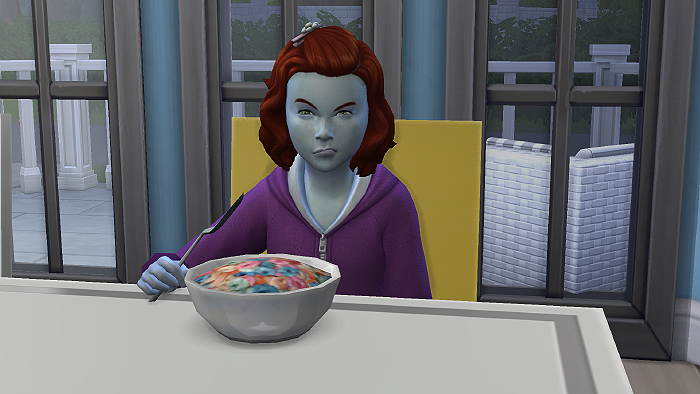 However, she doesn't seem happy about her cereal.
Which makes me think of the "Ryan Gosling won't eat his cereal" meme.
(Watch here:
https://www.youtube.com/watch?v=ohJtvuCAsp4
)
Also, while looking that up I found out the creator of those vines passed away, so that's depressing. Anyway, let's move on…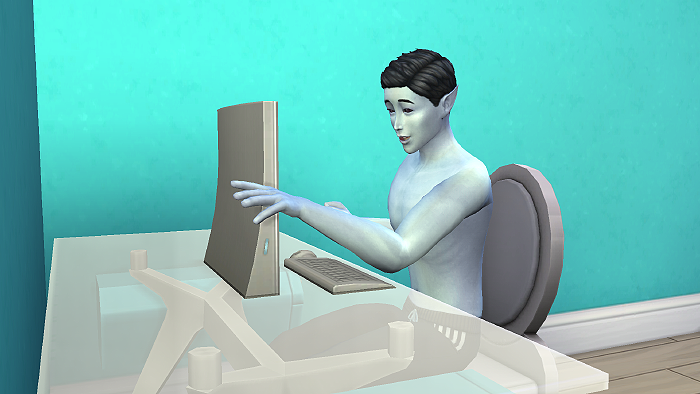 While writing a book, I noticed that Abraham had an icon of the desk in his action queue. It said "Talk with friends." This is the first time I've seen it and oh my gosh it's awesome.
Soon, Olivia is going into labor with the second baby of the generation!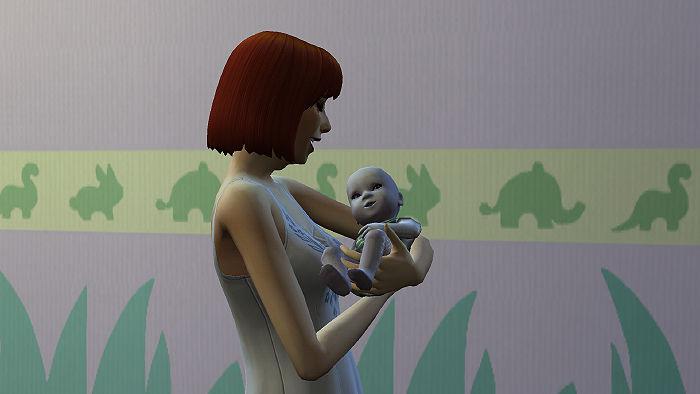 It's a boy, Brady, and so far he looks just like his big sister and his Dad.
I didn't waste any time in getting Olivia pregnant again. I felt like the house was too empty now with Rylee gone.
"But if you wanted another baby I could have just made you one here."
I'm not sure that's how it works, Abraham, but nice try.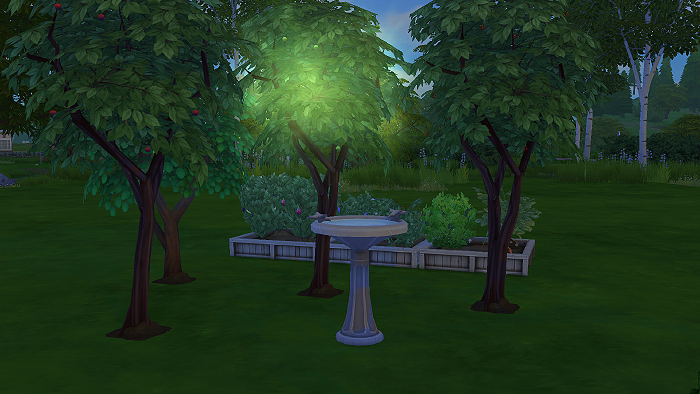 While on a community lot with her Mom, I had Sienna swipe this water fountain. Simply because I had never figured out how to swipe an object before so I wanted to try it. It's now in the garden.
Charlotte's ghost is very attentive to baby Brady, and it's really sweet. She's one of the only ghosts who actually takes care of the proper need that they're crying about. The others just change the diaper for no reason.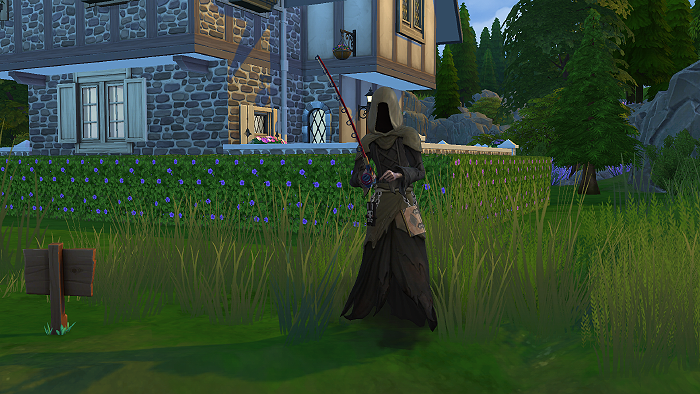 While looking for frog logs, I came across the Grim Reaper fishing in someone's backyard. Because that's not weird at all.
Brady has become a child, and somehow ended up with Rylee's red hair. I'm assuming it's because his father must secretly carry that genetic even though it turned black when I gave him hair.
We have another Whiz Kid and my first vegetarian sim. It seems that a good portion of sim foods are vegetarian safe though, so I'm sure we'll be fine.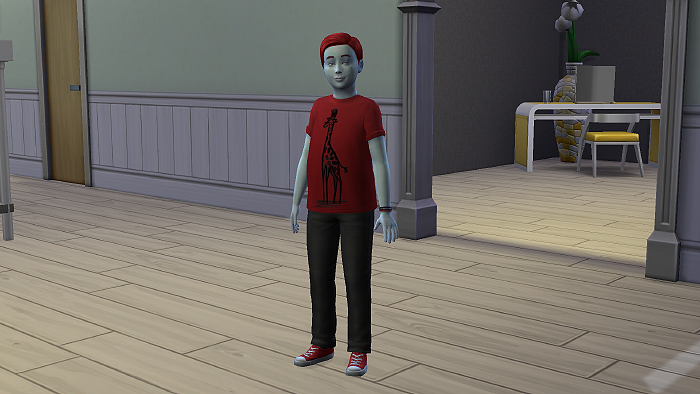 Somehow, Brady is really pudgy. I wonder if it's because he was fed so much as a baby?
Also, I thought this shirt was fitting given his sister's shirt.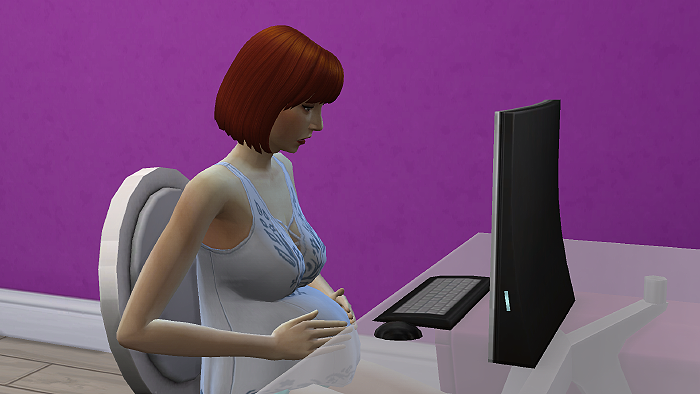 While working from home one day, Olivia went into labor.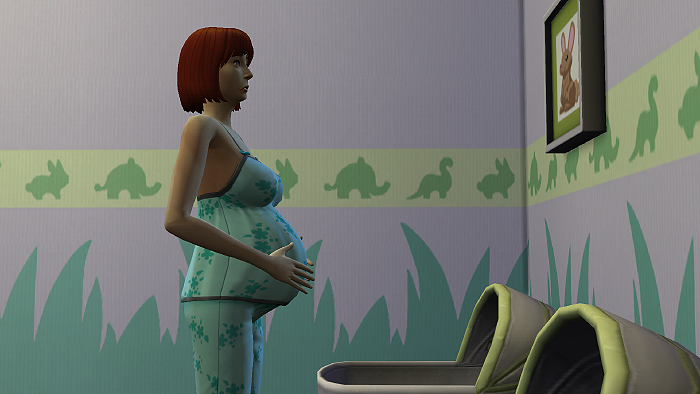 After a quick nap and some other needs being taken care of, she was ready to have the last baby of the generation.
It's another boy! Meet baby boy Aaron Hayden!
Aaron is also our randomly rolled heir!
Several hours after the birth, Abraham goes into preparental panic. Very delayed reaction there buddy.
Sienna apparently got an A when she came home from school Today but I missed it because I had Olivia at a festival to purchase a snow globe.
This means Sienna has completed this Whiz Kid aspiration. I gave her Social Butterfly next. Yes, willingly. I did this because I prerolled for her teen aspiration and since it's social related I thought it would be beneficial if she had the socially gifted trait.
Our little heir has become a child and he also has Olivia's red hair.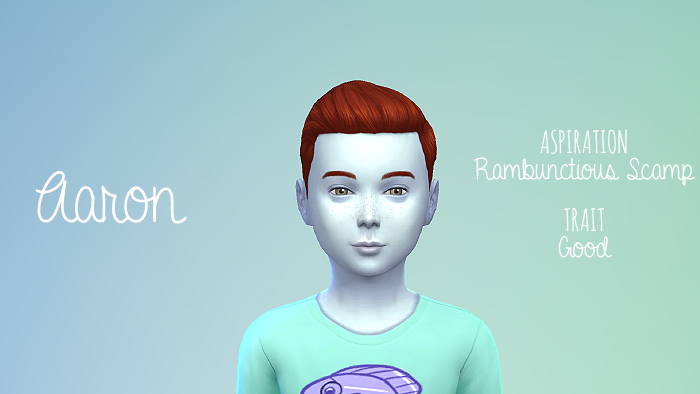 Aaron is super adorable! I just know he's gonna have adorable children.
I kind of stuck with my 'animals in random human accessories' theme for his shirt.
The family gardener, who happens to be Ethan's son Jax's wife, is heavily pregnant and she looks very angry about having to come do the gardening.
Really, it's because she hates children, but still.
After making a club for children only and inviting a bunch of children over to the house, Sienna completes her aspiration! I gave her Rambunctious Scamp next.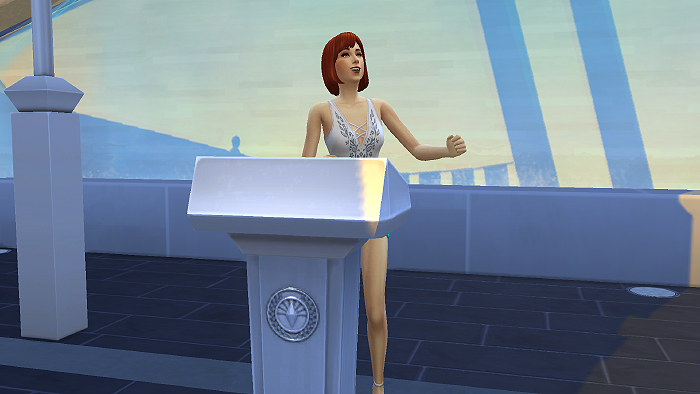 For one of Olivia's work from home tasks, she had to go give an energized speech. However, nobody was there to watch…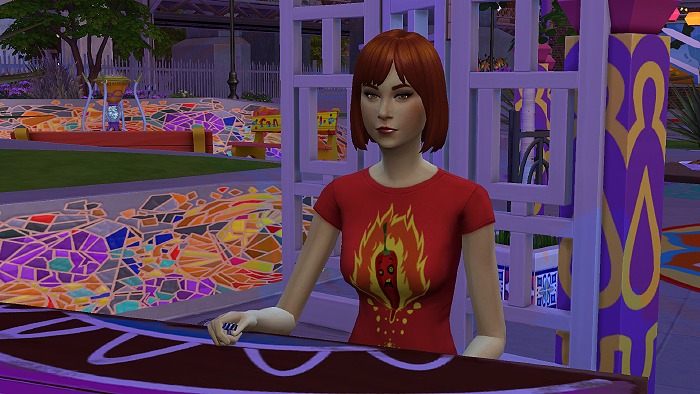 At the next spice festival, Olivia was able to finish the spicy curry contest which unlocked this cool shirt.
We only have three of the snow globes so far, but I'm working on collecting them all.
Please don't mind Brady trying to get off the couch, but I took this picture because of their semi-matching shirts.
It's already time for Sienna to become a teenager! Time sure flies!
Also, that's Abraham singing to her, but it looks extremely creepy.
Sienna grows up into the worst possible ensemble…to the mirror with you!
Ah, that's much better.
Sienna is still extremely cute, and I do wish she was the heiress but that's okay, I think Aaron will do just fine.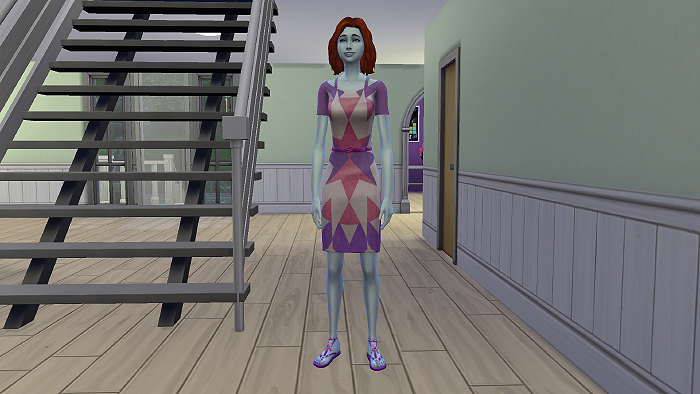 It's hard to dress aliens sometimes, but I wanted to stick with purple and I thought this looked okay.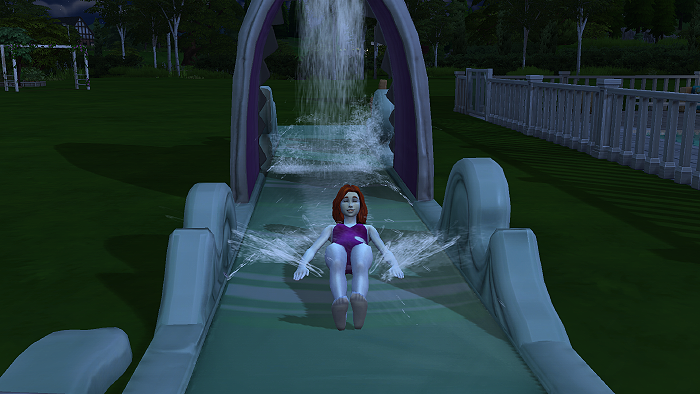 I also got her a waterslide for her birthday, because why not?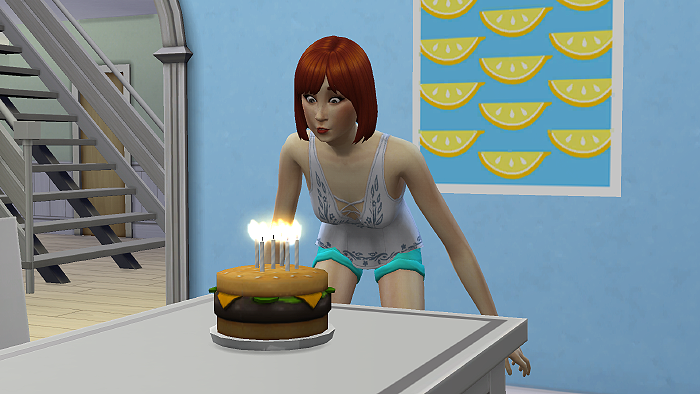 It's now Olivia's adult birthday!
She looks exactly the same. I really do think she's the best looking of her generation – Castiel being a close second.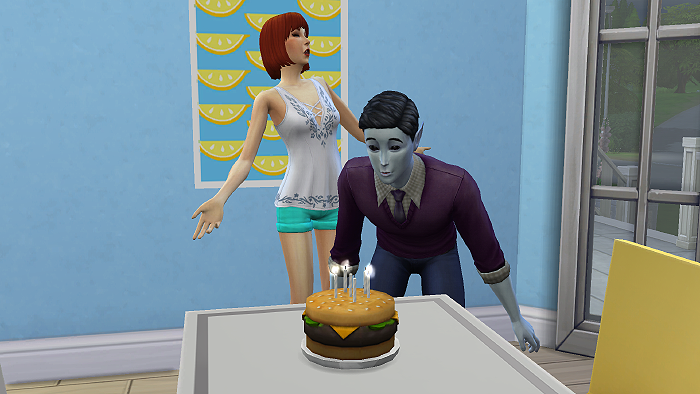 Also, the couple are somehow the exact same age – this never happens – so it's also Abraham's birthday!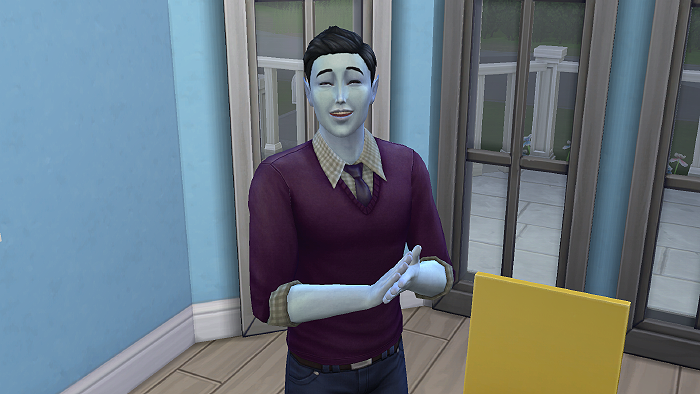 Abraham does look a little older, but he's still handsome as ever.
- - - - - - - - - - - - - - - - - - - - - - - - - - - - - - - - - - - - - - - - - - - - - - - - - -
That's where I'm going to leave this chapter. I hope you enjoyed it, and I hope to have another chapter out very soon!
In the meantime, check in with me over at
SiMania
or
BoolProp
!